Sew-alongs 2013
Sew-alongs 2012
Sew-alongs 2011
Fashionable Foundations for Frosty Weather Trousers, skirts, legwarmers and more! Anything that keeps your lower portion fashionably cozy fits perfectly here! The chilly weather necessitates the donning of bifurcated bottoms and sassy skirts!
Chic Chemises for Cool Climates
Blouses, tops, vests, cardigans, and sweaters! These wardrobe essentials can carry you from day to night, not to mention provide necessary layering to keep out the chill.
Fabulous Frocks
Dresses of all styles; mini, short, or long! Keep yourself warm in your modish designs, layering with tights and boots!

Underneath It All
When you're spending months covered from the neck down, a glamorous underpinning of your choice adds a secret, luxurious touch that chases the cold away!
Tender Tootsies
Let's not forget your frosty feet! Socks, slippers and the like are the order of the day. Keep those tootsies warm and dry!

Those Cozy Nights
Is there anything better than snuggling up in a cozy pair of pajamas with a hot drink and a book whilst Jack Frost works his magic outside? I think not! Sleepwear of all types are the way to go here!
Baby It's Cold Outside
Coats, hats, and mittens donned to keep the cold at bay, especially when out enjoying the spectacular fall colours!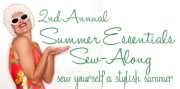 Sewing five(-ish) garments for summer, from some of these categories:
Poolside Pretties: Anything that cools or dries you off when there's lots of sun and water around. One and two-piece swimsuits, swimsuit cover-ups, surf shorts, sun hats, oh my! One versatile swimsuit cover-up I find lovely is a terry cloth dress. Double-duty, that's what I'm talking about.
Clam Diggers & Co.:
Bifurcated bottoms of every style and length, from flowing linen pants to short-shorts and all the inbetweens—clam diggers, pedal pushers, Bermuda shorts, etc.
Sweet & Sassy Skirts:
Prints and solids, short and long, low-slung and high-waisted. But most of all: Airy, flirty, flattering.
The Sundress:
Need I say more? To me, the perfect sun dress strikes that cord between casual and elegant—arms and collarbones, looking good barefoot or high-heeled. It's something you can wear to both a barbecue and a summer wedding.
Tees, Tunics & Blouses:
Yes, please! I'm finally understanding the worth of blouses as they also strike that balance between casual/formal, totally versatile. I'm also thinking mini-dresses that do triple duty as tunics, dresses and cover-ups.
Those Summer Nights:
Pullovers, cardis and hoodies may be the last thing you're thinking of with the mercury rising, but there's those cool summer nights, not to mention every last establishment with the air con blasting. Or: for those of you where thunderstorms are a daily summer experience, a lightweight trench?
Jag har anmält mig till
KrajaMarias
utmaning 2010, som går ut på att sy eller sticka totalt 12 plagg till mig själv under 2010.
Jag har också varit med i
Höstutmaningen 2010
, så en del plagg fick vara med i båda :)
Så här är resultatet än så länge: